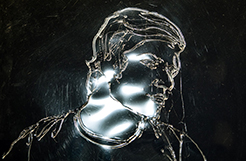 The Blue Room, group exhibition, The Jewish Museum, Berlin
Curators: Atalya Laufer, Barbara Rösch.
Photos: Merav Maroodi
The "blue room" exhibition took place in the Jewish museum. This museum is often frequented by people visiting with a specific set of ideas in mind about what they are about to see. The context of the Jewish people's history in Berlin, Germany and Europe; A story of persecution.
Most of the works in the exhibition deal directly or indirectly with issues of refugees, escape and racism. Moreover, they relate to the connection between this exhibition and this specific venue evoke the visitor to explore current issues in German politics through a historical prism of which the museum might bring to mind.
Understandably, women and children usually come to mind first when we talk about war victims, but the last surge of refugees comprises a very large majority of men.
the vast quantity of people seeking an asylum is sometimes being seen as a swarm rather than as individuals fleeing a warzone. Moreso, this wave is even sometimes regarded to as a menace because of the majority of men. Hence, my work deals with male refugees that I personally met and got familiar with.
In my work I want to bring the transparency of the individual to the foreground, I want to make these people visible. Although the portraits are transparent the faces are present and their individuum comes to life throughout the installation as the visitor wanders through.

The name "The Blue Room" is in my work an analogy to the sky and water which are transparent but in our visual perception turn blue. Due to this transparency, each person can seem different, through each pair of eyes from any angle, by every observer.